Australian swimmer Magnussen has plenty of confidence before Olympics
Aussie teammate Matt Targett says world champion James Magnussen reminds him of Brazilian Cesar Cielo.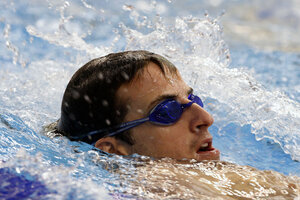 Regi Varghese/REUTERS/File
Swimming world champion James Magnussen's bullet-proof confidence is reminiscent of Cesar Cielo in his world record-breaking pomp and is unlikely to waver on the starting blocks at London, according to relay gold medal hope Matt Targett.
Targett, a member of Australia's Olympic 100 meters freestyle team, knows the two intimately.
The towering 26-year-old shared a house with Brazilian Cielo while swimming at Auburn University in the United States and remains good friends with the Olympic 50 meters freestyle champion.
Targett now trains intensively with Magnussen, the heavy favorite for the individual 100 freestyle gold in London, as they bid to repeat their relay gold from the Shanghai world championships at the Games.
"It's hard to say why (Magnussen) has such confidence, but it's really impressive," Targett told Reuters in an interview in Melbourne.
"The only other time I've seen it in another athlete is Cesar Cielo, who I went to college with.
"So it's really exciting to see because I know his mentality. I can sort of understand his psychology because I've seen it over and over again, especially with Cesar in 2008 and 2009 and that's when he was at his peak."
---