Michael Phelps starts his push for London at US Olympic swim trials
Olympic gold medalist Michael Phelps continues his competition with US teammate Ryan Lochte Tuesday at the US Olympic swimming trials in Omaha.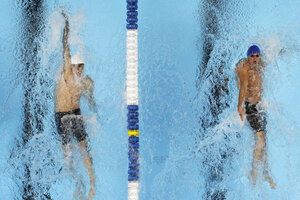 Mark Humphrey/AP
Ryan Lochte won Round 1 of his showdown with Michael Phelps at the U.S. Olympic swimming trials. Phelps won't have to wait long for a second chance to take down his rival.
They'll compete in the 200-meter freestyle preliminaries on Tuesday morning, with the 16 fastest qualifiers advancing to the evening semifinals. Lochte owns the upper hand in that event, having beaten Phelps at last year's world championships in Shanghai.
Any butterflies two of the world's best swimmers may have felt going into the eight-day meet should be gone since both qualified for the London Games on the first night of the trials. Lochte became the first swimmer to make the U.S. team with his win over Phelps in the grueling 400 individual medley on Monday.
"I can sit down and take a deep breath and relax," Lochte said. "I can just do what I love to do and have fun and just race."
It was a three-man race between world champion Lochte, world record holder Phelps, and Tyler Clary, the fourth-fastest swimmer ever in the event. Each of them owned the lead at different points in the race — Phelps in the butterfly, Clary in the backstroke and Lochte in the breaststroke.
"All three of us were side by side by side and we were neck and neck," Phelps said. "You could hear the excitement of the crowd and that's something that definitely played a pretty big role in giving me a little extra energy the last 150. I was very pleased with that."
---