USA basketball team escapes with win in Argentina warmup
Team USA beat Argentina 86-80 in Sunday's exhibition game. Argentina, which won the 2004 Olympic gold medal, kept it close.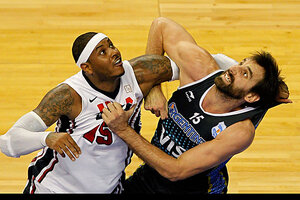 REUTERS/Albert Gea
Dressed up like the Dream Team, this U.S. Olympic basketball squad even played like one for 10 minutes.
It didn't last, but the Americans never thought it would.
Argentina came nearly all the way back before the U.S. held on for an 86-80 victory Sunday in an exhibition game.
"We weren't expecting to come out there and blow them out tonight," U.S. forward Carmelo Anthony said. "We knew that they're a team that doesn't quit, despite what was going on or how much they get down or what's the state of the game. We expected a game like this coming into it."
The Americans held on to win it thanks to big 3-pointers from Kevin Durant and Chris Paul, insisting the close game serves them better than the type of blowouts the Dream Team always posted.
RECOMMENDED: Are you a real Olympics fan? Take the quiz
"I love it. You hate to breeze through exhibition games and then you get into London, and then you start getting competitive," U.S. forward LeBron James said. "So we have a very good team. It doesn't matter about how many points you win by, you just want to play well and get better that night, and I feel like we got better tonight."
---