London 2012 diving: China takes gold, USA silver in 3-meter synchronized
London 2012 diving: Wu Minxia and He Zi won the first diving gold medal for China Sunday. Abby Johnston and Kelci Bryant of Team USA finished second.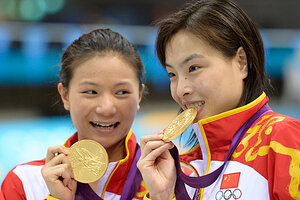 (AP Photo/Mark J. Terrill)
Wu Minxia is close to crowning herself China's new diving queen.
Wu and her partner He Zi won the first diving gold medal of the London Olympics on Sunday, putting the country on a path toward a possible sweep of the eight medals.
They led throughout the five-dive round and totaled 346.20 points in the 3-meter synchronized event.
"It's kind of if they mess up, then you have an opportunity," American silver medalist Abby Johnston said. "Anything can happen in this sport, so you still have that possibility."
RECOMMENDED: Are you a true Olympic fan? Take the quiz
It was Wu's fifth Olympic medal, leaving her one away from tying countrywoman Guo Jingjing's record of six medals. Guo was China's superstar diver until her retirement 1 1/2 years ago.
Wu has three golds, one silver and one bronze. She could earn another in the individual springboard event, where she has medaled twice before and will compete against He.
"It feels normal," Wu said in Mandarin. "I really don't have that many emotions."
China won seven of eight golds as the host country four years ago in Beijing and swept the golds at last year's world championships in Shanghai.
"I am impressed by them," Johnston said. "I watch their video. That's one of my training methods, just watching them and how they do it."
---