Canada's opening ceremonies statement: we're not America
(Read article summary)
The opening ceremonies of the Vancouver Winter Olympics were most memorable when they highlighted what makes Canada unique – and different from its southern neighbor.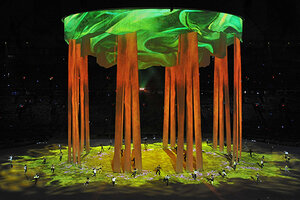 Newscom
The day before the opening ceremonies, the chief executive of the Vancouver Organizing Committee was asked what story he hoped to tell on the Winter Olympics' first night.
"Often people think we're you," he said to an American journalist. "This is part of a chance to let Canada be seen on its own terms."
So it was.
Indeed, the most memorable moments of the opening ceremonies came when Canada felt perhaps most unfamiliar. Fiddlers dressed like Hells Angels? Weary white-clad travelers walking across the snowy tundra? The aurora borealis come to earth?
No one will be mistaking that for America. It was, in the spirit of the national anthem, "the true north strong and free."
Beijing, however, it was not – and that by design. While it was China's evident desire to leave attending heads of state with an inferiority complex, that was never likely to be Canada's way of going about things.
As poet Shane Koyczan intoned to the stadium in a segment certain to end up a Canadian YouTube favorite, this is a nation that can defined by the words "thank you" and "please."
Then, in another attempt – a subtle and respectful one, of course – to draw a distinction between Canada and its southern neighbor, he recited a poem of all things Canada – "a" to "zed," not "zee."
Canada wild
The ceremonies painted Canada as the stately columns of Douglas fir in Cathedral Grove on Vancouver Island. Or as a pod of orca whales, gliding beneath the calm surface of the Pacific.
---