Winter Olympics Day 6: US crushes with double mctwists and downhill dominance
(Read article summary)
The US won a record six medals in one day Wednesday, including three ascendant performances for gold by Lindsey Vonn, Shani Davis, and Shaun White.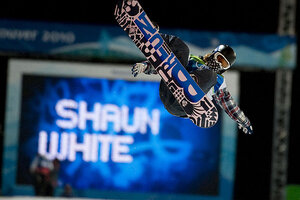 Newscom
West Vancouver, British Columbia
If you are Stephen Colbert – or any American for that matter – now might be a good time to look at the Winter Olympic medal table.
On Wednesday, the United States did not only "Defeat the World" – as the Colbert sticker posted around Vancouver implores – it crushed them.
Indeed, something happened Wednesday that had never before happened: The United States won six Winter Olympic medals in one day – one short of the now-defunct East Germany's Winter Olympic record. For perspective, remember that in 1988 the United States won six medals during the entire Winter Olympic Games.
Yet something else also happened that is less definable, but far more impressive: On Wednesday, three United States athletes won gold medals with performances so dominating that the rest of the world could do nothing whatsoever about it.
Bear in mind, the world is pretty good at this Winter Olympic thing.
Between 1952 and 2002, the United States finished higher than fourth in the overall medal table only twice – both in Olympics it hosted. For the bulk of recent Winter Olympic history, America has been also-rans, picking up medals in a few specialty sports like speedskating and figure skating, but otherwise watching the Winter Olympics with a sort of bemused indifference.
---