Men's super-G finally shows America the real Bode Miller
(Read article summary)
The debacle in Turin turned many Americans against Bode Miller, despite his historic success in alpine skiing. Winning silver in the men's super-G Friday – along with his earlier downhill bronze – has given Americans a better measure of the skier.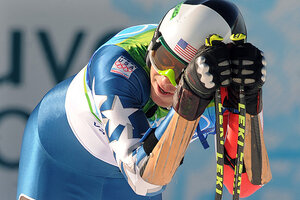 Newscom
Vancouver, British Columbia
Four years ago, America was sure that it was being Punk'd.
Bode Miller is the World Cup champion. Bode Miller is a threat to win five medals. Bode Miller is the best male alpine skier in American history.
Then came the Turin Olympics, and Bode Miller looked like a blooper reel.
What was this "World Cup," and how could anyone incapable of staying on two skis for the length of a run ever be crowned its champion?
Something smelled fishy. Either the Europeans has invented this World Cup thing, and "Bode Miller" was actually an accountant from Toledo named Steve, or someone had secretly given Miller a skill transplant before the Olympics began.
Now, at long last, Americans are seeing Bode Miller as originally advertised – with the most decorated American man in the history of alpine skiing bringing silverware to the Winter Olympic medal table Friday.
What happened?
The difference between the Miller of Turin and the Miller of Vancouver – with super-G silver Friday and downhill bronze Tuesday – can be summarized in one word: expectations.
---