Olympic figure skating: A night of poetry equal to Johnny Weir's roses
(Read article summary)
Evan Lysacek took the gold, Johnny Weir once again almost stole the show, and Yevgeny Plushenko, the defending Russian champion, was left grumbling about quads and the future of ice skating.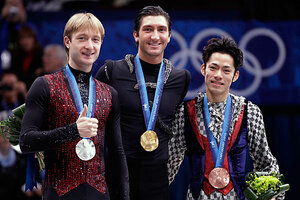 David J. Phillip/AP
Vancouver, British Columbia
Yes, there were the medals. Gold for America's Evan Lysacek, silver for two-time Olympic medalist Yevgeny Plushenko of Russia, and bronze for a very happy Daisuke Takahashi of Japan who redeemed himself after a hard opening fall.
But there were so many more moments of humanity. Moments that made Johnny Weir's ridiculously huge bouquet of red roses – with enough white ones to spell "J" – seem almost appropriate.
Like lines of poetry, these moments didn't follow the grammar of Olympic performances or the rhyming of preparation with perfect performance. But they were evocative. There was the unexpected moment of normality, when the audience was silenced as if Nobunari Oda's skate lace had been what was holding them together. And then, the crowd clapping in accelerating unison for him to come back on the ice – which he did, with supreme poise.
There was Stéphane Lambiel's silky back crossovers and superior spins that both he and the crowd savored, never mind that he missed the bronze by 0.5 points. There was Canada's love for Patrick Chan, which his whole performance reflected – despite two falls that left him in sixth place overall.
---