USA beats the Winter Olympics medal table red, white, and blue
(Read article summary)
Two unexpected medals from Americans Bode Miller (silver) and Andrew Weibrecht (bronze) in the men's super-G inflated America's already big lead in the Winter Olympics 2010 medal table.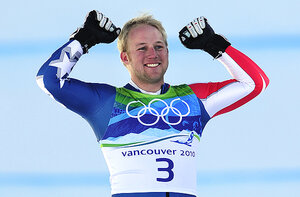 Newscom
Vancouver, British Columbia
The United States is putting a choke hold on Canada's Winter Olympics.
Americans Bode Miller and Andrew Weibrecht took silver and bronze in the men's super-G Friday – a race in which Americans were considered relative long shots.
It's just the latest example of how, so far, virtually everything that could go right has for the Americans. As of Friday afternoon here in Vancouver, the US led the medals table with more medals of every color than any other nation at the Olympics: six golds, six silver, and eight bronzes.
The 20 total medals puts the US five medals shy of its performance during the entire Turin Games, where the US finished second – and the Vancouver Olympics are not yet half over.
Looking ahead
Saturday could be another strong day, with alpine skier Lindsey Vonn, long track speedskaters Shani Davis and Chad Hedrick, and short track speedskater Apolo Anton Ohno all competing in events where they are medal favorites.
---