From curling, with love: scoring explained in seven easy steps
(Read article summary)
The US women scored a big curling upset over Britain Saturday. We're here to explain how they did it, from draws to the button to hammers in the extra end.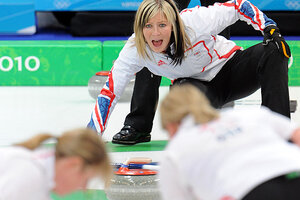 Newscom
Vancouver, British Columbia
The women of the United States curling team scored a big 6-5 upset over Great Britain Saturday, when the American skip made a great draw to the button in the extra end and British skip's shot with the hammer flew wide of the center of the house.
Now, if America only had any idea what that meant.
By the unimpeachable gauge of google.com, quite a few people are seeking an understanding of "curling game scoring" or some permutation thereof.
Never fear. As your omniscient guide to the sometimes-impenetrable world of the Winter Olympics, I am here to tell you that the basics of curling are, in fact, not so complicated.
1. The language
The key to Curling 101 is the acceptance that you need to learn a new language without Rosetta Stone CDs. Like another sporting mystery to Americans – cricket – curling revels in its obscurity. Understanding the terminology is like a secret handshake, and only the initiated are allowed into the club.
Curling, you see, could simply call the "house" the target and the "button" the bulls-eye, but what fun would that be?
2. The scoring
The scoring, though, really is simple: You want to come closer to a bulls-eye than your opponent when all the stones are thrown.
In curling terms: The team with the stone closest to the center of the button when the end is finished gets a point. If a team has two stones closer to the center of the button than its opponent, it gets two points, and so on.
---