USA vs. Canada: Is this heaven? No, it's Olympic hockey
(Read article summary)
USA's 5-3 upset of Canada showcased everything that is good about hockey – and made a case for why NHL players should come back for the Winter Olympics in 2014.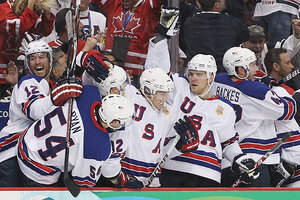 Newscom
Vancouver, British Columbia
After this, can National Hockey League owners actually follow through on their threat to take players out of the 2014 Olympics?
Sunday, many Americans watched probably the most exciting game of hockey that they have – and perhaps will – ever see in their lives.
To those who were watching in 1980: You are, of course, excepted. But in the post-cold war world, this is about as good as it is bound to get.
True, no medal was at stake, and Canada will live to play the Germans Tuesday. But the United States' 5-3 win over Canada Sunday, while no miracle, was miraculous hockey. And in the spirit of a growing rivalry between neighbors, it will surely count almost as much as a medal.
Back in America, do people understand the enormity of what just happened here?
Canada's Mardi Gras
Sunday, Beattie Street in Vancouver looked like the French Quarter, which could be the first time since the establishment of the New World that Canada could be mistaken for New Orleans.
---