Kim Yuna: record score gives Vancouver Olympics their 6.0 moment
(Read article summary)
Korean Kim Yuna won gold with a world-record score in women's figure skating at the Vancouver Olympics Thursday. She set a new standard for figure skating perfection.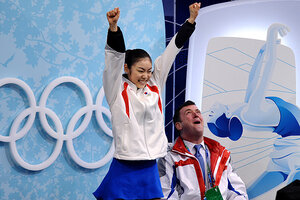 Newscom
Vancouver, British Columbia
For many years, figure skating perfection had a number: 6.0.
After Kim Yuna's world-record score Thursday night, it does once again: 150.
Yuna gave the Vancouver Olympics their Nadia Comaneci moment in the free skate Thursday, scoring 150.06 points on her way to gold in the women's figure skating competition.
What does 150 points mean? Admittedly, the new scoring system – instituted by the sport's dons to reduce judging bias after the 2002 Salt Lake pairs figure skating scandal – can be hard to fathom.
But here's what 150 points meant to silver medalist Mao Asada Tuesday night.
According to the judges, Asada – the 2008 world champion – skated one of the best free skates of her career, only 1.31 points off her personal best.
Kim beat her by 18.34 points.
The scores for the entire competition are even more astounding. All told, it was the best performance of Asada's life, scoring 205.50 points in the short program and free skate combined.
Kim beat her by more than 23 points, with a (need we say) world-record 228.56.
Bear in mind, Evan Lysacek beat Evgeni Plushenko by 1.31 points.
How good is Kim Yuna?
So, essentially, the second-best figure skater in the world – who is so good that many believe she could have won the Turin Olympics at age 15 had she been eligible – has the best competition of her career … and gets beaten by three touchdowns and a field goal.
---