Lindsey Vonn race suit: How big an advantage at Vancouver Olympics?
(Read article summary)
Lindsey Vonn race suit: Vonn, Bode Miller, and the rest of the skiers on the USA and Canada teams are wearing an ultra-fast race suit at the Vancouver Olympics designed by Spyder, whose previous super-suit was banned for being unfair.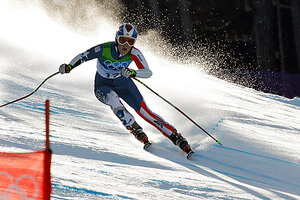 Luca Bruno/AP
Lindsey Vonn is blazing through the Vancouver Olympics wearing her sport's most cutting-edge race suit.
But she and her USA teammates may come under scrutiny for it.
The maker of their uniforms, Colorado-based company Spyder, designed previous ultra-fast suits worn by several Americans as they won world racing titles in the 1990s. Those suits were ultimately banned because they gave an unfair advantage.
Calling to mind the Michael Phelps-Speedo swimsuit controversy from the Beijing 2008 Olympics, this year the US and Canadian ski teams are wearing so-called "slippery suits," designed and engineered by Spyder with British design company d3o at a total estimated cost of $500,000.
"Remember the Speedo swimsuit in Beijing that garnered criticism because it allowed swimmers to be so much faster in the water?" Spyder spokesperson Hillary Procknow told CNBC. "We are hoping to create similar buzz behind the new suit Spyder spent so much time engineering."
What's so special about them? It's all about the stitching.
High-tech armor
They're seamless, almost like a uniform of goo. The key ingredient in the uniform is a liquid known as shear thickening fluid, which is used in soldiers' body armor. The d3o ingredient is normally soft and flexible, but it hardens upon impact, which offers protection when skiers like Bode Miller slam through the racing gates.
---