Why would US spy on friends? Because it can, and it makes sense, experts say.
The scandal suggests US technological capabilities have outstripped prudent policy, but even friendly countries have divergent interests and 'it's really a polite fiction' they don't spy on each other.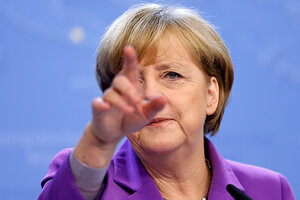 Francois Lenoir/Reuters
As the scandal over the United States spying on friends and allies expands beyond German Chancellor Angela Merkel's cell phone to perhaps dozens of other countries, one question lingering in the background is: Why spy on friends anyway?
The basic answer, some national intelligence and security experts say, is that relations among countries are essentially based on interests, and no matter how friendly countries may be, their interests are rarely exactly the same.
"We and Germany don't always see eye-to-eye on some important issues," says James Lewis, director of the Technology and Public Policy Program at the Center for Strategic and International Studies in Washington. "One way to reassure yourself about the direction an ally like Germany is heading on one of those issues is to know what Germany is saying."
In recent years the US and Germany have had their differences on issues ranging from technology trade with Iran to how to counter Chinese cyberespionage, Mr. Lewis notes. And beyond such areas of disagreement, the US would also have an interest in knowing Germany's thinking on issues with global implications where it is playing a central role, he adds.
"Germany pretty much kept Europe afloat in the [2008] financial crisis," says Lewis, citing an example of a fast-moving global challenge where the US would have wanted as much information as possible.
"If Germany had decided to stop supporting Greece, for example, it would have had major global repercussions," he adds. "It would have been important for us to know that."
It was French World War II statesman Charles de Gaulle who famously quipped that "No nation has friends, only interests," but in the current uproar over National Security Agency spying on American allies, France is taking a different tack.
French President Francois Hollande, saying spying among friends is "unacceptable," on Friday joined Chancellor Merkel in demanding talks with the US aimed at setting new rules for the intelligence-gathering road.
---