US democracy NGOs in Egypt still shuttered
(Read article summary)
Making life hard for NGOs, particularly foreign ones, has long been a sport in Egypt.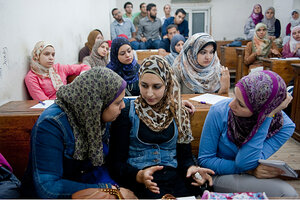 Ann Hermes/Staff
In late December, Egyptian authorities raided the offices of 10 NGOs, charging that they were illegally receiving foreign funding. Among them were two of the United States' biggest democracy promotion groups.
The International Republican Institute (IRI) and the National Democratic Institute (NDI), though independent, have close ties to the US government, with most of their funding coming from the National Endowment for Democracy. Their local operations were shuttered, and their computers, documents, and cash were hauled away by armed Egyptian government agents. The US-based Freedom House, the Konrad Adenauer Institute of Germany, and a number of NGO's working on judicial reform and democracy were also raided.
It was a stark illustration of the fact that while Hosni Mubarak is gone, much remains the same in Egypt, where a military junta, suspicious of outsiders and jealously protecting its own prerogatives, is currently running the show. I helped write a couple of pieces on the recent raids and noted, briefly, that IRI and NDI were shut down in 2006, largely over the same kinds of complaints that Egypt's junta is making today: They aren't licensed and their foreign funding amounts to harmful meddling in Egypt's internal affairs.
---