With Americans holed up in Cairo embassy, Egypt's lobbyists in DC quit
(Read article summary)
It takes a lot to get K Street to distance itself from a regime. Egypt's ruling military junta has manged the feat by investigating a group of American NGO workers for criminal prosecution.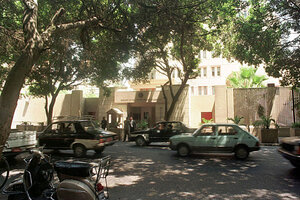 Leila Gorchev/AP/File
On Sunday, a group of Egyptian officers landed in the US to lobby for their annual $1.3 billion stipend form Congress to keep flowing. Not coincidentally, Defense Secretary Leon Panetta called Egypt's military ruler, Field Marshal Mohammed Tantawi, to ask a little favor at about the same time. Would he please lift the travel ban on a group of Americans working on democracy promotion in Egypt?
The answer, apparently, was no. Tonight the Americans, a group of employees for the International Republican Institute (IRI) and the National Democratic Institute (NDI), are holed up in the US Embassy in Cairo, avoiding possible arrest.
One of them is Sam LaHood, IRI's Egypt director and the son of US President Barack Obama's Transportation Secretary Ray LaHood. The US-funded groups' offices were raided in December, cash and equipment confiscated by armed Egyptian security officers. A number of their local executives have been banned from leaving Egypt pending a criminal investigation, and the US Embassy has taken the group in on concerns that further measures will be taken against them.
---