Egypt soccer riot: Whatever actually happened, public fury is what counts (+video)
(Read article summary)
The Egypt soccer riot yesterday took 73 lives, and now furious protesters are flooding the streets of Cairo looking for someone to blame.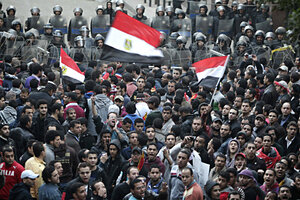 Asmaa Waguih/Reuters
What really happened in Port Said yesterday doesn't matter right now. But eventually, the reality of the events that culminated in 73 dead fans after a soccer match in the Egyptian city will matter a great deal.
How can these contradictory statements be true? Because today, no matter how banal the series of mistakes that led to the deaths after local team Masry surprisingly defeated Ahly, Egypt's biggest club, tens of thousands of angry citizens are on the streets, and they're blaming Egypt's military junta for the deaths.
In the forefront are the Ultras Ahlawy, the hardcore Ahly supporters group which many of Wednesday's victims belonged to. Many of them blame the military for what happened, insisting that it gave orders to cause or allow the carnage to take revenge on the ultras, who helped organize the barricades at Tahrir during the uprising against Hosni Mubarak last January and February and have participated in numerous street demonstrations against police brutality and the military since.
Could this be true? Maybe. There's no evidence for that position, however, and the likeliest answer is (as always) the simplest one. But the fact that many people are seized with the notion that there was a conspiracy here, and are acting out on it is a political reality that will have to be dealt with. Clashes broke out between protesters near Tahrir Square and riot police in the early evening in Cairo, with teargas volleys and rock-throwing in Tahrir.
Many on the scene say the situation could deteriorate further, with fury mixing with grief among the ultras who, after all, are accustomed to violent confrontations with the cops. One of Ahly's ultra fan groups issued a statement on its website calling for a "war to defend the revolution."
---