The chutzpah of Rupert Murdoch's Sun
(Read article summary)
Murdoch's tabloid The Sun is under pressure over phone hacking and bribing cops. A deputy editor decries a 'witch hunt' that shows the British press is less free than ex-Soviet states.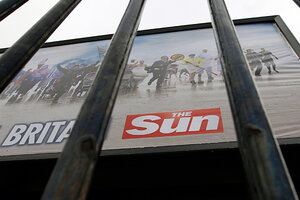 Chris Helgren/Reuters
The Sun – Rupert Murdoch's racy tabloid famous for pages filled with de-bodiced young women, jingoistic headlines in times of war and international football, and vicious verbal attacks on its critics – is now playing the victim.
Exhibit A from yesterday's edition is deputy editor Trevor Kavanagh's "Witch-hunt has put us behind ex-Soviet states on Press Freedom."
Mr. Kavanagh's rant was a response to the arrests of five senior Sun journalists over the weekend on allegations of bribing public officials. Four other Sun reporters have also recently been arrested as part of an ongoing probe into bribery of public officials and illegally hacking into the cell phones of crime victims, celebrities, and politicians.
As Kavanagh tells it, the widening probe (which already saw multiple arrests and the demise of The Sun's sister weekly tabloid, The News of the World) has left the British press less free than in former Soviet republics. Not only is The Sun maintaining its tradition of hysteria and hyperbole, but Kavanagh has also managed to cement the paper's reputation for myopia and insularity.
Yes, it's true that Britain was ranked 28th in press freedom by Reporters Without Borders last year behind Poland, Estonia, and Slovakia, as Kavanagh writes (the US ranked 47). But only one of those is a former Soviet state (Estonia), and enforcing existing laws against bribery and invasions of privacy isn't press censorship.
---