Yes, the IAEA is worried Iran is hiding something
(Read article summary)
The latest IAEA report on Iran says that the country is not complying with inspections, is accelerating nuclear enrichment, and isn't being open about past possible weaponization work. Just like the last one.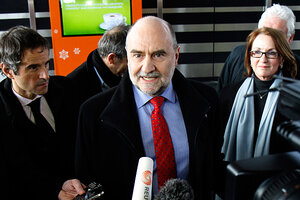 Ronald Zak/AP
The latest International Atomic Energy Agency report on Iran's nuclear program is in much the same vein of past reports: There is plenty of smoke, but not fire, on possible nuclear-related weapons work by the Islamic Republic.
Recent visits to Iran by IAEA members resulted in limited cooperation from Tehran, a refusal to provide access to the Parchin military base where inspectors believe work on a detonating component for a nuclear bomb has been conducted, and evidence of an expanding program of nuclear enrichment. Two sets of meetings with Iranian officials went nowhere, with Tehran effectively stonewalling the IAEA, according to the report.
On the IAEA's concerns about possible weapons-related work, Iran "dismissed the Agency's concerns in relation to the aforementioned issues, largely on the grounds that Iran considered them to be based on unfounded allegations," the report says. The IAEA board "called on Iran to engage seriously and without preconditions in talks aimed at restoring international confidence in the exclusively peaceful nature of Iran's nuclear programme" and "identified the clarification of possible military dimensions to Iran's nuclear programme as the top priority."
In short, the IAEA and everyone else following the question of Iran's nuclear program, which the country insists is for peaceful purposes only, are pretty much where they've been for over a year now. Iran is not fully cooperating with inspectors, creating the impression that it's hiding something. The IAEA can't report on places it can't visit, fueling more doubt. And Iran continues to dig in its heels on not providing more access and transparency.
---