EU heaps new sanctions on Syria
(Read article summary)
The Council of the European Union is seeking to tighten a financial noose around the regime of Syria's Bashar al-Assad.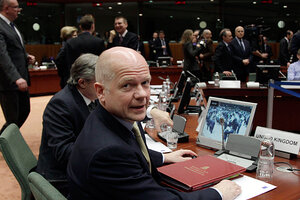 Virginia Mayo/AP
The European Union announced stepped-up sanctions against the Syrian regime today that, to my eyes, looks like a preliminary step to more serious sanctions on Bashar al-Assad and those around him.
In a statement, Catherine Ashton, the EU's representative for foreign affairs and security policy, said "Today's decisions will put further pressure on those who are responsible for the ruthless campaign of repression in Syria. The measures target the regime and its ability to conduct the appalling violence against civilians. As long as the repression continues, the EU will keep imposing sanctions."
The EU also explained that the "Syrian regime's continued use of violence against civilians" prompted the new measures. One wonders if war crimes indictments are not far off. Muammar Qaddafi of Libya and members of his circle were hit with International Criminal Court (ICC) indictments far sooner during that country's uprising, and if only half of the reports coming out of Syria are to be believed, Mr. Assad long ago passed Qaddafi's triggering threshold.
Of course, such decisions are political, and that's probably why a formal war crimes measure hasn't happened till now. But it sure looks like the window for "dialogue" that has been left open is down to just about a sliver.
---