On Stratfor, Assange and Anonymous just don't get it
(Read article summary)
Wikileaks' Julian Assange is trumpeting the release of emails stolen from the security analysis and consulting firm Stratfor as a major coup. Here's why he's wrong.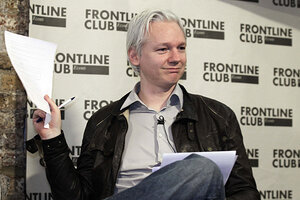 Finbarr O'Reilly/Reuters
Julian Assange and Wikileaks have been desperate for another home run in the 24 months since they began releasing a vast library of US diplomatic cables and military reports from the wars in Iraq and Afghanistan.
Mr. Assange's organization has been on the decline since, with credit card companies refusing to process donations, infighting among early Wikileaks programmers that has left it without a secure "drop box" to receive leaks, and early journalistic collaborators like The New York Times and The Guardian falling out with Assange.
But Assange thinks he's hit paydirt again, with seven years of emails stolen from the Texas-based Stratfor, a company that provides intelligence and geopolitical analysis. Stratfor says it generates its own intelligence for reports, though it also relies heavily on open-source data collection. I've read dozens of their reports over the years. I've found some wildly speculative, others accurate but banal, and still others intriguing.
And while I've found some Stratfor analysis to be flat wrong, and so perhaps harmful if conclusions are taken by policymakers at face value, I've never seen anything nefarious or dangerous. Yet today, the
---