Foreign journalist rescued from Homs...
(Read article summary)
... and a reminder of the risks to everyone when reporters go to war zones.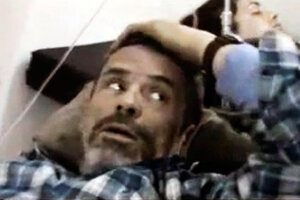 Shaam News Network via Associated Press Television News/AP
The good news is that Sunday Times photographer Paul Conroy, wounded in the attack that killed Marie Colvin and Remi Ochlik, is now reported to have made his way out of that battered city and into Lebanon.
The bad news is that, the whereabouts and condition of three other foreign journalists who were in the city – Edith Bouvier, William Daniels, and Javier Espinosa – are not known. And in the case of Mr. Conroy, his escape came at the expense of more blood. The Guardian reports that a number of the Syrian activists who smuggled him out of the city were gunned down in the process:
The dramatic nature of Conroy's evacuation underlines the high level of risk being faced by those who have been trying to run medical, food and other supplies into the besieged suburbs of Homs and evacuate the injured, including foreign journalists. The regime of President Bashar al-Assad, which has recently moved the elite 4th Division commanded by his brother Maher into the battle for Homs, has been using a foreign-supplied drone to target its artillery and mortar fire into the city. Conroy had twice refused to leave Baba Amr without the body of Colvin, who was killed during a rocket attack last Wednesday. The group of reporters has been holed up in Baba Amr ever since and protracted negotiations to evacuate them have failed.
---