Ominous signs in Homs amid reports that Syrian tanks are rolling in
(Read article summary)
Following yesterday's reports of the Syrian government's massacre of civilians seeking to flee the assault on Homs, a large armored column appears to be closing on the city.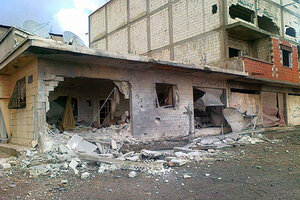 Local Coordination Committees in Syria/AP
Homs, particularly the predominantly Sunni neighborhood of Baba Amr, has been pounded for weeks with artillery and mortars. Now, it appears that Syria's Bashar al-Assad is moving to phase two.
Reuters reports that an elite unit commanded by one of Assad's brothers is moving tanks into position in the city. While not yet independently confirmed, moving tanks and infantry in the "softening up" that's taken place with the hundreds killed in recent weeks was always on the cards. While not confirming the tank assault, the Syrian Observatory for Human Rights reports a pause in the shelling of Baba Amr for most of the day.
If it is happening, Homs' people are probably in store for more horrors. They have braved weeks of sniper fire and mortar attacks. Residents have been killed while out scavenging for food, infants and children have been killed by mortar strikes on their homes. Dealing with sniper fire on the streets has become the new normal (have a look at the video below, in which a blase Homsi jokes about his ruined city while a sniper takes cracks at cars and pedestrians hustling down the street).
---