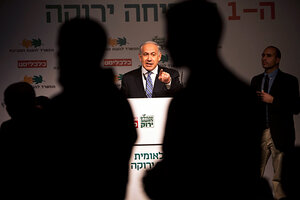 Oded Balilty/AP
The Israeli public is champing at the bit for air strikes against Iran's nuclear program right? Wrong.
A new poll run by the University of Maryland's Sadat Chair for Peace and Development Shibley Telhami was released as Israeli Prime Minister Benjamin Netanyahu gets ready to decamp to Washington next week, for direct meetings with President Obama and a speech at the upcoming AIPAC conference.
The annual meeting of AIPAC, a pro-Israel advocacy group with political views aligned with Mr. Netanyahu's Likud, is expected to be a platform for warnings of the Iranian threat, calls for unbreakable solidarity between the US and Israel, and demands that the US provide assistance to the Jewish state if it decides to attack the Islamic republic. Netanyahu has promised to make Iran the "center" of his talks with Obama.
That last bit is understandable, since Israel doesn't have the ability to decisively destroy Iran's hardened and widely dispersed nuclear assets from the air. But the notion of an Israel marching inevitably closer to war with Iran is undercut by the Maryland poll, conducted between Feb. 22-26.
---