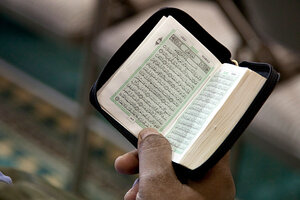 Carolyn Kaster/AP
When word came that Qurans had been burned by US troops in Afghanistan, there was no doubt there would be bloodshed as a consequence. The reason why they were burned (carelessness and ignorance in this case, it seems) didn't matter.
Afghans responded violently to Quran burnings in the past and it is hardly a secret that the country seethes with anti-American, and generally anti-foreigner, sentiment. President Barack Obama quickly moved to do the only thing he could to mitigate the coming storm: he apologized in a formal letter to Afghan President Hamid Karzai. "I assure you that we will take the appropriate steps to avoid any recurrence, to include holding accountable those responsible," Mr. Obama wrote.
To listen to some of his political opponents talk, he should have doubled down and instead insisted on a formal apology for the murder of US troops by Afghan soldiers.
Republican presidential candidate Newt Gingrich called the apology an "outrage," said Obama should have demanded an apology from Mr. Karzai for the murder of US troops instead, and said "this destructive double standard whereby the United States and its democratic allies refuse to hold accountable leaders who tolerate systematic violence and oppression in their borders must come to an end."
---