Joe Scarborough implies General Dempsey unfit to lead joint chiefs
(Read article summary)
The morning talk-show host says Chairman of the Joint Chiefs of Staff Gen. Martin Dempsey's comments that Iran is a rational actor should be a firing offense.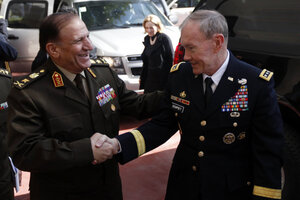 Khalil Hamra/AP/File
When Gen. Martin Dempsey, the chairman of the joint chiefs of staff, said he considered Iran to be a "rational actor" in congressional testimony in February, he soon came under attack from hawks in the United States.
A string of Republican politicians, from Newt Gingrich to Lindsey Graham, soon lined up to attack General Dempsey's judgment. His point, that Iran is playing the geopolitical game with an eye to advancing its own interests and security, was soon lost in a feedback of insisting that the country doesn't reason at all. And that's a frightening thought, since the implication of that claim is they can't be cajoled, threatened, or coerced by any means at all beyond force.
Today, MSNBC talk show host Joe Scarborough took it a step further, suggesting Dempsey's comments show he's unfit for command. On his morning program, Mr. Scarborough said. "Why did the chairman of the joint chiefs say that about the country that has been the epicenter of world terrorism since 1979? And if he truly believes that, why is he chairman of the joint chiefs?"
---