A faulty argument for staying on in Afghanistan
(Read article summary)
Marc Thiessen of the Washington Post's op-ed page is promising doom when US troops pull out of Afghanistan. There is no reason to believe he's close to correct.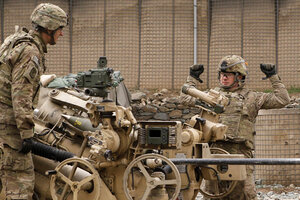 Erik De Castro/REUTERS
The murder of 16 Afghans last week, allegedly by a US soldier who wandered off his base in Afghanistan, has renewed a basic question: Why are 90,000 US troops still in Afghanistan?
Washington Post op-ed writer Marc Thiessen took a stab yesterday at justifying a longer stay in Central Asia, without once mentioning the costs in lives and cash, nor referencing anyone with actual regional expertise. While his piece yesterday warns of danger ahead for the US in Afghanistan, the real danger lies in anyone in a position of power taking such sentiment seriously. His piece lays out "Five disasters we'll face if US retreats from Afghanistan."
Let's take them apart one at a time:
Disaster One: No more drone attacks in Pakistan.
Mr. Thiessen writes, "If we want to continue the drone war against al-Qaeda, we must have a U.S. military presence not just in Afghanistan but in the Pashtun heartland – and we can't have that presence if the Pashtun heartland is on fire."
There's a whole range of options to maintaining a "presence" in Afghanistan that would allow for intelligence sharing and Afghan assistance in going after the remnants of Al Qaeda, which is now a shadow of its former self. President Hamid Karzai has been eager to stop aggressive US military raids – which inflame Pashtun opposition to his government and the US-led occupation – to allow more space for a negotiated end to the war with the Taliban.
---