Good Reads: No cyber-utopia for activists
(Read article summary)
Activists in Syria and elsewhere may find it ever easier to connect online. But the governments that want to thwart them are watching.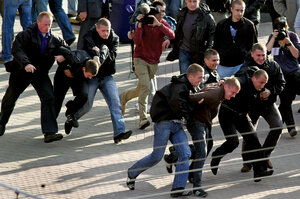 Dmitry Brushko/AP
That we are living in a world increasingly connected by the digital revolution is a given. But are the Internet, social media, and the expanding array of technologies that can detect signs of a famine as easily as they can help an authoritarian state track dissidents, a boon or an Orwellian bane?
The answer is, of course, somewhere in the middle. But the positive side of the ledger has generally gotten a lot more attention in the press than the negative. Now, that's starting to change.
The end of 'cyber-utopia'
Jamie Kirchik has a long essay in The American Interest just out on Evgeny Morozov's 2011 book "The Net Delusion" (highly recommended by me), and summarizes his central argument this way: "Morozov argues that the Internet is not the unmitigated boon that … assorted "cyber-utopians" make it out to be. It's a tool that, in addition to serving as a resource for democracy activists and their well-intentioned supporters in the West, is no less useful, and at times more so, for the authoritarians attempting to repress them."
Take Syria, where Youtube, Twitter, and Facebook have been successfully used by activists to get information and video about the war there to the world, but have also increasingly been penetrated by Syrian intelligence agents, who can find a treasure trove of personal links, movements, and information from data mining.
---