Egypt's cancellation of gas sales to Israel was inevitable
(Read article summary)
The gas pipeline had long drawn complaints of Mubarak-era corruption, popular anger at Israel, and the failure of commercial dealings to improve Egypt-Israel ties.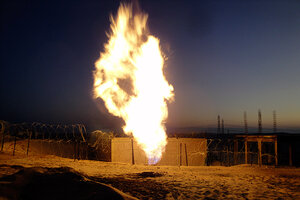 AP/File
The unraveling of a multibillion-dollar contract to sell Egyptian natural gas to Israel has been a long time in coming. The dissolution was virtually assured at the fall of Egyptian President Hosni Mubarak in February last year.
But to judge by some of the reactions today, Egypt's cancellation of a contract to supply natural gas to the private East Mediterranean Gas Co., which in turn delivered to customers in Israel, you'd be forgiven for thinking this was a bolt from the blue.
Shaul Mofaz, a legislator and leader of Israel's opposition Kadima party, described Egypt's decision as a "clear violation" of the peace treaty (in this, Mr. Mofaz is mistaken – the treaty makes no mention of this or any other gas deal and only calls for "normal economic relations" between the states).
Israeli daily newspaper Haaretz captions a story on Egypt's decision that it "may also constitute economic suicide." Israeli Prime Minister Benjamin Netanyahu, meanwhile, sought to paint the matter as divorced from politics. "This is actually a business dispute between the Israeli company and the Egyptian company," he said today.
Mr. Netanyahu is also mistaken. The chaotic politics of post-Mubarak Egypt practically required this step be taken.
---