Adel Imam, Egypt's favorite funnyman, dodges a bullet
(Read article summary)
Adel Imam, arguably Egypt and the Arab world's most famous comedic actor, had his conviction for 'insulting Islam' overturned today. But another was upheld earlier this week.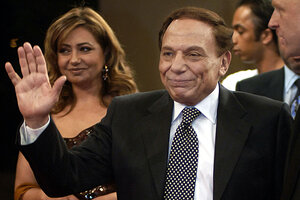 Aziz Shah/AP/File
The Egyptian Adel Imam is the Arab world's most beloved comic actor. Yet now in his 70s, at the end of a glittering career, he's faced trial for "insulting Islam" in a number of his film roles.
He's now 1 for 2 in court cases against him. An appeals court this week upheld a three-month jail sentence given to Mr. Imam in February 2011, shortly after Hosni Mubarak was pushed out of office, while another court found him and a number of other movie figures not guilty on a separate set of similar charges yesterday. He hasn't appeared at any of the hearings against him, and it's hard to imagine him going to jail while senior regime figures, among them Hosni Mubarak, remain free.
Imam, with his elastic face that can simultaneously seem mournful and ridiculous, has been a bumbling Arab everyman in more than 50 films down the years. Though many of them have been forgettable slapstick romps, a few are considered modern Egyptian classics. Like an Egyptian Bill Murray, he's played more serious roles as he's gotten older, most famously "The Yacoubian Building" in 2006, where he appears as the central character, an aging womanizer in a movie about corruption and the disappointments of Egypt since the 1952 revolution.
The cases against him can in some ways be seen as Islamist versions of nuisance suits. Amnesty International points out that a long-standing article in Egypt's penal code allows charges to be brought against "whoever exploits religion in words or writing or any other methods to promote extremist ideologies, with a view of stirring up sedition, disparaging or contempt of any divine religion or its adherents, or prejudicing national unity and social peace."
---