The hawkish bits of VP hopeful Marco Rubio's foreign policy speech
(Read article summary)
Senator Marco Rubio's foreign policy speech yesterday, taken by many as part of a campaign to be Mitt Romney's running mate, points to a politician who favors foreign interventions.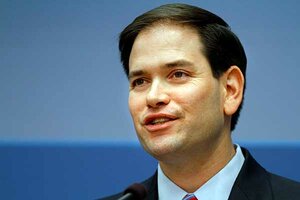 Jacquelyn Martin/AP
Marco Rubio stepped into the spotlight yesterday, with a foreign policy speech at Brookings that almost screamed out to Mitt Romney "pick me, pick me!"
The Florida Senator, whose parents immigrated to the US from Cuba in 1956, a few years before the revolution that brought Fidel Castro to power, focused on US foreign policy more broadly, not touching on Cuba. While pundits and watchers of US politics generally deemed Romney's potential running mate as not overly hawkish (here's a roundup of opinion), I see plenty of evidence he favors more military intervention abroad in his speech, at least when I focus on the areas I know best.
His first point was to complain that the US didn't play a "more active role" in the NATO air campaign in Libya that helped bring down Muammar Qaddafi last year. It's true that the Obama Administration stressed that it was part of a broad group of actors in the effort, which involved seven months of sorties in aid of the Libyan uprising against government forces (in deed, if not in word, going far beyond their UN Security Council mandate only to protect civilians).
---