Rupert Murdoch declared unfit to lead. The price of half-truths?
(Read article summary)
A UK parliamentary committee declared Rupert Murdoch 'unfit' to run his global media empire, which could have implications for his stake in the profitable satellite TV network BskyB.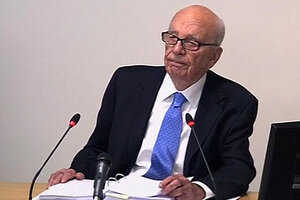 AP/File
In Rupert Murdoch's appearances before the British parliamentary inquiry into allegations of illegal phone hacking and bribery of public officials by two of his UK newspapers, his strategy has been a simple one: Claim he had no knowledge of the extent of the problem, complain that he was misled by subordinates, and promise to fix the culture of his company going forward.
In the damning report News International and Phone-Hacking, the House of Commons Culture, Media and Sport Committee has now responded by saying, in effect, that if Mr. Murdoch is taken at his word then he should no longer be running his $49 billion News Corporation. Both Murdoch and his son James told recent parliament hearings that they were misled by executives Tom Crone and Colin Myler about the extent of phone hacking at News International's papers. The committee found that Mr. Crone and Mr. Myler misled them about what they knew, and when they knew it, but also argued that at minimum the Murdochs should have known more themselves. News International is the News Corp. subsidiary for its UK print holdings.
On the basis of the facts and evidence before the Committee, we conclude that, if at all relevant times Rupert Murdoch did not take steps to become fully informed about phone-hacking, he turned a blind eye and exhibited willful blindness to what was going on in his companies and publications."

"This culture, we consider, permeated from the top throughout the organisation and speaks volumes about the lack of effective corporate governance at News Corporation and News International. We conclude, therefore, that Rupert Murdoch is not a fit person to exercise the stewardship of a major international company.
---