Egypt's ruling junta consolidates its position
(Read article summary)
With parliament dissolved, a retired air force general and long-time Mubarak crony in a runoff for the presidency, and democracy activists in disarray, Egypt's ruling junta is in the catbird seat.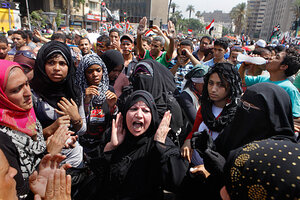 Amr Nabil/AP
With the decision to dissolve parliament yesterday, Egypt's Constitutional Court did more than send a message to 30 million citizens that their votes don't count. It concentrated even more power in the hands of the military junta that has run the Arab world's largest country for 18 months and counting.
In so doing, the wildest hopes of the revolutionary activists and average citizens who poured into the streets of Cairo and a dozen other cities in January and February of 2011 have been dashed. Former Gen. Hosni Mubarak may have been forced out by the protests, but the military establishment and the tools of political repression that Egyptian state apparatus have wielded so effectively since the 1950s remained in place.
Egypt's transition, such as it is, continues to lurch on. But any hope of a fundamental change – of a military subordinated to civilian control, an end to indefinite detention of political activists by security agencies, a reset of a sclerotic and corrupt government bureaucracy – has been dashed, at least for now.
Nathan Brown of George Washington University had a sharp, grim assessment of what he termed "Cairo's Judicial Coup" yesterday: "The [Supreme Constitutional Court's] actions today, occurring in the context that they do, reshape Egypt's transition process – so much so that some Egyptians will likely wonder if they are in any 'transition process' at all. That concern is justified. The 'process' part was already dead. Now the 'transition' part is dying."
---