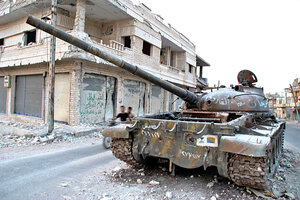 Fadi Zaidan/Reuters
Is Syria's Bashar al-Assad on the ropes?
US officials continue to present the demise of his regime as an inevitability. But of course they would. That's the outcome they want, and a perception of inevitability can generate its own momentum. The more supporters of the regime believe the government is doomed, the more likely they are to jump ship.
The bloody events of recent weeks certainly don't look positive for him, particularly the fact that parts of Aleppo, Syria's largest city and commercial hub, remain outside of his control. That sends a powerful message of weakness about his regime, particularly given that the rebel forces Syria's Army is up against are seriously outgunned, without the artillery, tanks, or helicopters Mr. Assad has at his disposal.
But the balance of military power remains heavily slanted in favor of Assad, so it's hard to count him out. A truly accurate prediction would require knowing far more than anyone seems to about the rebels' order of battle and the thoughts of millions of average Syrians who have stayed largely on the fence until now. If a collapse comes, it will probably come fast, involving the defections of members of his inner circle. Lots of important regime insiders could be thinking of such a exit strategy at the moment – or very few of them.
---