Egypt's President Morsi fires senior general Tantawi, asserting his power
(Read article summary)
Egyptian President Morsi didn't just fire Tantawi today. He overturned a constitutional declaration from Tantawi's military council that sought to tie the hands of the civilian president.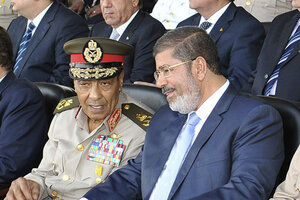 Sherif Abd Monam/Reuters/File
The expected showdown between Egyptian President Mohamed Morsi and the military establishment that has consistently maneuvered to preserve its own power and privilege arrived today, far sooner than almost everyone expected.
President Morsi, from the Muslim Brotherhood, sacked Defense Minister Mohamed Hussein Tantawi, who had headed the Supreme Council of the Armed Forces (SCAF), the junta that ran Egypt from the time Hosni Mubarak was ousted in February 2011 until Morsi's election earlier this year. Also fired were the acting chiefs of Egypt's military branches, who all served on the council. Morsi also unilaterally annulled constitutional declarations issued by SCAF that had taken the power to legislate out of Morsi's hands.
The reaction so far from the military? None.
There have been no statements, no mobilization of troops, no evidence that they're going to stand up to Egypt's first elected civilian president. The Muslim Brotherhood, a movement that was outlawed for decades and that the security establishment of Egypt was focused on containing for over 50 years, now theoretically holds all the formal political power in the Arab world's largest country. He can legislate, nominate members of the constitutional drafting committee, set foreign policy, and apparently shuffle the senior ranks of the military at will.
Egypt's elected parliament was dissolved by a court order earlier this year backed by SCAF, and the only official balancing authority against the presidency left are the courts. But will the judges act against Morsi's moves today absent overt backing from the military? That seems unlikely, but all things are possible in a country with neither a democratic tradition nor any history of civilian political authority.
---