Is the detritus of the Iraq war harming the babies of Fallujah?
(Read article summary)
The claim has been made for years. Now, there's a medical report about the Iraq war that appears to back it up.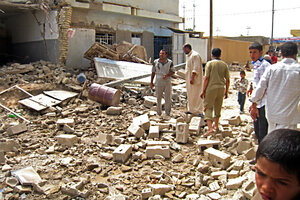 AP/File
Anecdotal tales of inexplicable sickness and deformities have abounded in Iraq for years. In their broad brushstrokes, they seem plausible. The first Gulf War had littered much of Iraq with depleted uranium from the armor-piercing bullets the US used to destroy Saddam Hussein's retreating columns in1991. (The Monitor's Scott Peterson traveled around Baghdad with a Geiger counter in 2003 and found plenty of "hot spots" more than a decade later).
The country's health and sanitation had collapsed during the decade of international sanctions that followed that war, and the stresses of daily life, with new deprivations heaped on the state terror Hussein relied on to retain power, soared. A population that lives in fear is always a less healthy one, and the fright of average Iraqis only grew after the US-led invasion of 2003, with the thunder of "shock and awe" soon replaced by a sectarian civil war that claimed more than 100,000 lives and saw tens of thousands of Iraqi families uprooted from their homes.
But at the same time, a tearful anecdote told of a sickly child, with blame laid on unknown toxins, wasn't proof. It's natural for people to see causes and patterns in essentially random events. As a reporter, perhaps to my shame, I pushed aside pursuit of stories about cancer clusters or surges in childhood illness, since the reality of people's suspicions was unknowable, absent scientific study.
A new study
---