For Israel, costs and benefits of striking Gaza
(Read article summary)
Israel assassinated a senior Hamas militant, Ahmed Jabari, today. How much further will the Gaza strikes go?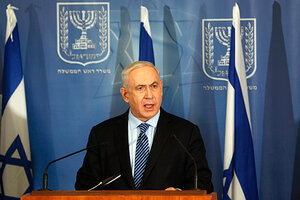 Ronen Zvulun/Reuters
(Since this story was published on November 14, a lot has happened. Some of the Monitor's latest stories include a consideration of the effectiveness of Israel's Iron Dome missile defense system, Israeli preparations for a possible ground assault on Gaza, a look at the propaganda war, an analysis of the costs and benefits of escalation for both Israel and Hamas, and sympathy for Gazans and doubts about a ground war from Israel's south, the region of the country most vulnerable to rocket fire.)
Israel's assassination of senior Hamas militant Ahmed Jabari on Wednesday appears to be just the start of the farthest-reaching offensive on Gaza for years. Various Israeli officials had been agitating for days for serious retaliation to rocket fire from Gaza, never mind Hamas promising to stop the rockets on Tuesday. Today, those officials' wish was granted.
But how serious will the retaliation be? That is the question that has yet to be answered. There have been at least two dozen airstrikes in Gaza so far today, and there are unconfirmed reports coming out of the territory that other senior Hamas officials have been targeted.
---