Happy new year, Cairo?
(Read article summary)
Residents speak of a tough year, and worry about a tougher one ahead.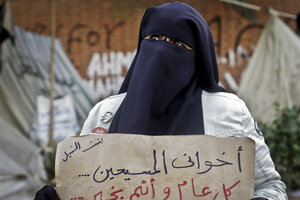 Amr Nabil/AP
I'm back in Cairo after well over a year away, and my first thought was that little has changed.
Getting out of Cairo airport is still a chaotic mess of taxi and hotel touts, though easy to navigate if you know the drill. Traffic was worse than I'd have expected for midday on Saturday, but Cairo zahma hardly has a predictable rhythm anyway. Parts of the city are always one flat tire away from being turned into a parking lot.
As I pulled into my old haunts, one thing that struck me was the apparent absence of the over-the-top commercialization of Christmas I was used to when I lived here years ago. Friends agreed, saying shops and hotels had reined in their use of the holiday, on the reasoning of "why take a chance?" Referring to bearded President Mohamed Morsi from the Muslim Brotherhood as "Morsi Claus" was apparently de rigeur, however, in certain activist and secular circles.
But enough with first impressions. Egypt had a tumultuous 2012 that was disillusioning, to put it mildly, for many of the young revolutionaries who supported the January 2011 uprising against Hosni Mubarak. While you can't see the economic pain of the past year by walking the streets of Cairo, just a few early conversations with friends and acquaintances make it clear that it's very real. In the fashionable districts of Cairo, shopkeepers say business is down. In more working class neighborhoods, the guys selling vegetables or clothing say likewise. Men who paint houses or fix plumbing say work is less steady, with customers putting off non-essential work.
---