The drip, drip, drip of Egypt's bad economic news
(Read article summary)
The Egyptian pound has tumbled in recent weeks, but it could go much further. Here's why.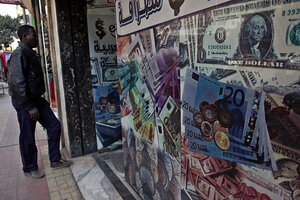 Khalil Hamra/AP
Egypt's President Mohamed Morsi is in a bind.
Egypt desperately needs a $4.8 billion loan from the International Monetary Fund, but to get it President Morsi needs to cut subsidies and adopt other austerity measures that will erode the already shaky living standards of millions of the Egyptian poor. But if he balks, Egypt's foreign currency reserves will continue to deplete and the Egyptian pound will continue to plummet, hurting business and raising the costs of government subsidies on bread and fuel that millions of poor Egyptians rely on.
Either way, Egypt is facing the threat of a major economic shock after a manageable drip, drip, drip of economic pain for the past two years. Egypt's fuel subsidies are wasteful and untargeted, but they have become a critical support of the economy after decades in place. Practically every scrap of food moved in Egypt relies on gasoline- or diesel-powered transport, and an increase in those costs will go straight to the price of food. The IMF has also sought a cut in cooking fuel subsidies.
While the IMF proposals come with ideas on better ways to target subsidized goods towards the neediest, complicated new monitoring mechanisms will need to be put in place – not the Egyptian bureaucracy's strongest suit.
What's more, the Egyptian government is the biggest wheat importer in the world, and the queues for subsidized bread in every Egyptian city are proof of how much so many here rely on the government subsidy. While there's no current plan to cut wheat subsidies, every time the pound falls against the dollar, the cost of that subsidy goes up in local terms, straining the government's effort further. Foreign currency reserves at the Central Bank have fallen from about $36 billion at the time of Mubarak's ouster to about $15 billion today, both reflecting the rising costs of imports and direct efforts to bolster the currency.
---