US Marines cleared to land on Okinawa landfill? Not so fast
(Read article summary)
Relocating US Marines on the Japanese island is a political hot potato that has been tossed before.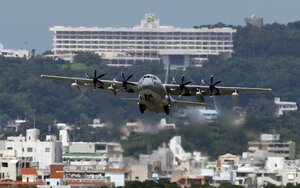 Greg Baker/AP
Testing the assumptions behind the headlines
Will the Okinawa governor's long-stalled agreement to approve the relocation of a US Marine base finally pull one of the sharpest thorns in the side of Washington's relationship with Japan?
Not necessarily. And even if the move goes ahead, Friday's announcement is likely to mark another phase of a controversy that has lasted nearly two decades.
Ever since Tokyo and Washington agreed in 1996 to move the Marine base from Futenma, located in the heart of the city of Ginowan, to the seaside village of Henoko, the plan has been stymied by opposition from the people and government of Okinawa, the southern island that is home to most US troops in Japan.
The inability of Japan's central government to implement its deal with the US has been a regular source of tension in the alliance. The US has around 50,000 troops in Japan, and Okinawa is a key location.
The 18,000 Marines on Okinawa and their machinery are not popular; most Okinawans are fed up with the noise, the potential danger, and the occasional friction between soldiers and citizenry. They would like to see all US troops move off the island altogether.
US military planners say that is not possible, though they are as keen as anyone to close Futenma. They insist that building an airstrip on landfill in the bay of Henoko is the best solution to the problem.
---