Observer mission in Syria begins to unravel, pushing forward UN option
(Read article summary)
As the Arab League observer mission in Syria teeters amid accusations from members it is a farce, pressure may build for Syria to be referred to the UN Security Council.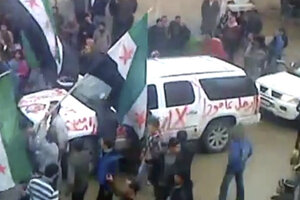 Shaam News Network/AP
• A daily summary of global reports on security issues.
One member of the Arab League's observer mission in Syria has quit and another is threatening to leave, calling the mission a "farce" and saying their presence in the country made little difference. Their criticism echoes what Syrian anti-Assad activists and much of the international community have been saying from the outset – that the mission had no power and would only be used by the Assad regime as a cover-up.
The mission was created to verify that Syria is complying with an Arab League agreement to end its violent crackdown on the opposition movement, pull the Army out of city streets, and release political prisoners. The first group of observers arrived in Syria on Dec. 26 and their numbers have gradually increased since then, now numbering 165.
Qatar's prime minister, head of the Arab League's committee on Syria, said in a news conference in Washington Wednesday that doubts about the "effectiveness" of the monitors are growing, Reuters reports. "I could not see up until now a successful mission, frankly speaking," he said. "We hope we will solve it, as we say, in the house of the Arabs, but right now the Syrian government is not helping us."
If the league admits that the mission has failed, it will be under immense pressure to refer Syria to the UN Security Council, although some members strongly oppose that action and may try to block it. Russia has also opposed UN action on Syria, although an appeal from the Arab League may sway its decision, according to Reuters.
---