Iran nuclear talks: Tehran says it's ready, despite assassination.
(Read article summary)
Tehran said it is ready to resume Iran nuclear talks with international powers after more than a year-long break. But it has yet to formally respond to an EU request to return to the table.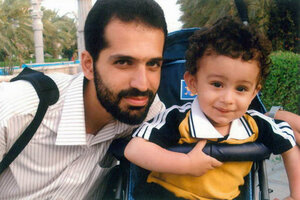 Fars News Agency/AP
Iran has reiterated its willingness to engage in talks on its controversial nuclear program, just days after another Iranian nuclear scientist was assassinated and the International Atomic Energy Agency (IAEA) confirmed Iran was producing 20 percent enriched uranium.
Iranian speaker of parliament Ali Larijani, who as the country's former top nuclear negotiator carries significant influence, said on a visit to Turkey yesterday that Tehran was ready for "serious" talks on its nuclear program, the BBC reports. The talks would be hosted by Istanbul and involve the so-called P5+1 group – the five permanent members of the United Nations Security Council and Germany.
"Regarding the 5+1 talks, we have previously expressed Iran's readiness to hold talks in order to resolve the nuclear issue," said Mr. Larijani, speaking just a day after scientist Mostafa Ahmadi Roshan was killed in Tehran.
---