US issues direct warning to Iran: close the Strait of Hormuz, risk military action
(Read article summary)
The US reportedly used a secret channel to convey to Iran more forcefully that closing the Strait of Hormuz would provoke a military response.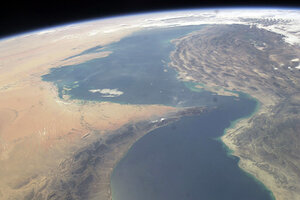 NASA/AP/File
The United States has issued a stern warning to Iranian leader Ayatollah Ali Khamenei that closing the Strait of Hormuz would provoke an American military response. Previously, Washington – which does not have an embassy in Iran – has relied on Switzerland to communicate with the Iranian leadership, but the Obama administration reportedly used a new secret channel to relay this message in an effort to underscore the seriousness of the situation.
The admonishment comes in response to recent threats from Iran that it would close the waterway – through which a fifth of the world's oil supply passes – if the West pursued tighter sanctions. Earlier this month, Iranian naval forces conducted drills to practice closing off a major waterway.
Tensions between Iran and the West have steadily escalated in recent weeks, but the economic cost of closing the Strait of Hormuz would likely cripple Iran, making such an action unlikely.
"They would basically be taking a vow of poverty with themselves," said Dennis Ross, a former Iran adviser for the Obama administration, in The New York Times. "I don't think they're in such a mood of self-sacrifice."
---