Nigeria tense after Islamists kill at least 178
(Read article summary)
A spokesman for the Islamist group Boko Haram claimed responsibility for Friday's attacks in the northern Nigeria city of Kano.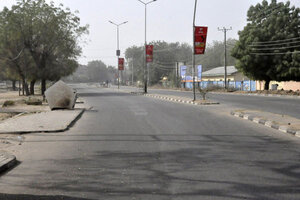 Reuters
Nigeria's second-largest city was on alert Sunday as the death toll continued to climb from a series of coordinated bombings and shootings in Kano Friday night.
A spokesman for a militant Islamist group known as Boko Haram claimed responsibility for what was one of the most violent attacks attributed to the group yet. A doctor in Kano's main hospital said the number of dead had reached 178 and could go higher, reports Reuters. The group is stepping up its attacks, and the Nigerian government appears unable to put an end to the violence.
Nigeria's president declared a state of emergency in four states on Dec. 31, after Boko Haram bombed churches on Christmas day, killing 44 people. The group also carried out an attack on the United Nations headquarters in in Nigeria August that killed 24 people. Most of its attacks have taken place in Nigeria's northeast. Kano is a northern city.
The country, which is the most populous nation in Africa, is predominantly Muslim in the north, where poverty is more widespread, and mostly Christian in the south. The geographic split by religion has been a point of tension in the past, something Boko Haram appears bent on exploiting in its bid to undermine the government.
---