Plan for early end to US combat role catches Afghan officials by surprise
(Read article summary)
Secretary of Defense Leon Panetta announced Feb. 1 that the US could end its combat role in Afghanistan by mid-2013 even as concerns about Taliban strength rise.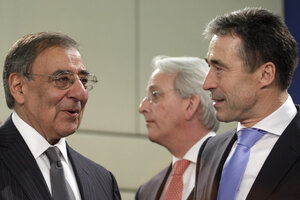 Virginia Mayo/AP
• A daily summary of global reports on security issues.
US Secretary of Defense Leon Panetta announced yesterday that American troops in Afghanistan would step back from their combat role in Afghanistan as early as mid-2013, more than a year before the full withdrawal scheduled for 2014.
The announcement caught the Afghan government and Army by surprise, Reuters reports. "A decision to push this a year earlier throws out the whole transition plan. The transition has been planned against a timetable and this makes us rush all our preparations," a senior Afghan security official said. "If the Americans withdraw from combat, it will certainly have an effect on our readiness and training, and on equipping the police force," the official said, adding that the US did not inform Afghanistan ahead of the announcement.
The New York Times attributes the unexpectedly early end to US troops' combat role to the Obama administration's "eagerness" to end the second war it inherited from the Bush administration.
In his announcement, Mr. Panetta downplayed French President Nicolas Sarkozy's decision to withdraw France's troops by the end of 2013, a year ahead of its NATO allies, the Times reports. His decision came after an Afghan soldier killed four French soldiers who were on a training mission – an action that has not been uncommon in the war there.
---