Pressure for Western intervention in Syria builds with fresh assaults (+video)
(Read article summary)
A Syrian Army invasion of opposition neighborhoods in Homs is seemingly imminent and explosions rocked the northern city of Aleppo today.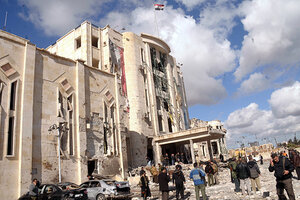 SANA/AP
• A daily summary of global reports on security issues.
Conditions in Syria are deteriorating further, with explosions in the northern city of Aleppo killing 25 people and wounding 175 more, while tanks amassed in the flashpoint city of Homs, apparently to invade opposition neighborhoods that the Syrian Army has been shelling for days. The worsening situation ratchets up the pressure on the Arab League and the West to intervene in the conflict, though both remain opposed to direct military involvement.
Reuters reports that the broadcast of the Aleppo explosions showed human remains on the street at the site of the attacks, as well as damage to a building and several cars. Opposition members in Aleppo also said they heard two explosions within the city, followed by gunfire near a military headquarters and a military hospital, says CNN. According to state television, the explosions targeted Syrian military and security buildings. The opposition's confirmation lends credence to the story by the state news service, which has aired dubious reports in the past, as Al Jazeera English has pointed out.
---