Activists: With UN gone, Syrian forces kill nearly 50 women, children
(Read article summary)
Activists described 'horrific' methods used by Syrian government forces and called for an emergency UN Security Council meeting. The government blamed the deaths on terrorists.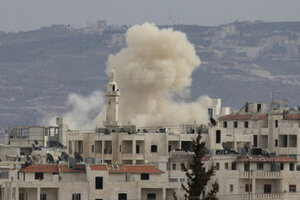 REUTERS
• A daily summary of global reports on security issues.
Hours after the United Nation's special envoy to Syria left the country, activists reported that dozens of civilians were killed in the besieged city of Homs.
Homs has been an opposition stronghold since the Syrian uprising began a year ago. Government forces have been launching a heavy assault on the city for weeks now as they try to eradicate pockets of rebel fighters.
Syrian's main opposition group said that government forces killed nearly 50 women and children and called for an emergency UN Security Council meeting, Al Arabiya reports.
The massacre was carried out by the security forces and the regime's 'shabbiha' (thugs), who killed the victims inside their homes, activists told Al Arabiya. The victims were killed by horrific methods; including burning, breaking their bones or slaughtering, according to activists. There were also at least 16 cases of rape reported, according to a local physician.
---