Next on Syrian hit list: Deraa, cradle of the uprising
(Read article summary)
After overrunning Homs and launching an assault on Idlib, Syrian government troops are staging an offensive on Deraa, where the uprising began a year ago.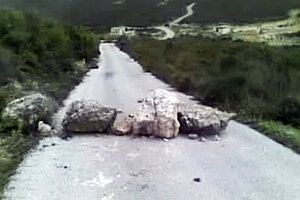 Shaam News Network via APTN/AP
• A daily summary of global reports on security issues.
Syrian government forces have launched an assault on the southern city of Deraa, the latest opposition stronghold to come under heavy attack as the regime tries to neutralize bastions of rebel support.
After a month-long siege drove most rebels out of Homs, troops began shelling the northern city of Idlib a few days ago. Reuters reports that "dozens" have been killed in Idlib since the assault was launched. Now they have moved south to Deraa.
The uprising began in Deraa about a year ago with protesters marching in the street against the regime of Syrian President Bashar al-Assad, although the epicenter of the uprising shifted to other cities over time. Reuters reports that about 20 tanks and armored vehicles rolled into Deraa this morning, "raking buildings with machine gun fire." A local activist told the news agency that the opposition is "outgunned."
The Syrian government announced yesterday that it would hold parliamentary elections May 7 under the auspices of a new constitution that was passed last month. But United Nations Secretary General Ban Ki-Moon said that Mr. Assad was deluding himself if he expected to survive the uprising with only piecemeal reform, without bringing an end to violence, The New York Times reports.
"If he thinks that he can weather this storm, then that is a serious misjudgment," Mr. Ban said, dismissing the idea that any reform plan might work without engaging the opposition and dismantling the one-party state.
---