Afghans angry that shooting suspect flown out of country (+video)
(Read article summary)
The US military says it is standard procedure to move the suspect, but many Afghans are demanding the US soldier accused of killing 16 villagers in Kandahar face justice in the country.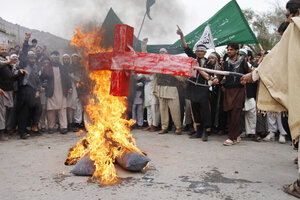 Rahmat Gul/AP
• A daily summary of global reports on security issues.
The US soldier accused of killing 16 villagers in Afghanistan's Kandahar Province was flown to Kuwait, prompting fresh outrage among Afghans who wanted to see him stand trial in the country. The move also potentially jeopardizes a US-Afghanistan agreement to keep advisers in the country after the troop withdrawal.
Unaware that the soldier had already been taken out of the country, hundreds of Afghans took to the streets in the nearby province of Zabul to demand his trial in Afghanistan, The Washington Post reports. Kandahar lawmaker Mohammed Nayem Hamidzai told the Post that news of the soldier's departure would likely spur "fresh outrage."
US military spokesman Lt. Col. Jimmie Cummings said the Afghan government knew of US plans to take the suspect out of the country and called it "routine standard operating procedure" when preparing to try someone in the military justice system, The Washington Post reports. No charges have yet been filed.
---