Reports: Afghan soldiers complicit in a suicide plot against their own government
(Read article summary)
The alleged discovery of nearly a dozen suicide vests at the Afghan Ministry of Defense deepens concerns about the loyalty of Afghan security forces, which have already killed 16 coalition troops this year.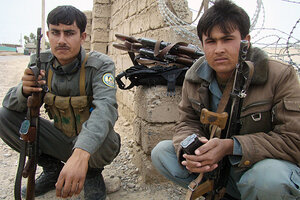 Abdul Khaleq/AP
• A daily summary of global reports on security issues.
Concerns about disloyal Afghan security forces are deepening after an Afghan soldier and local police officer yesterday killed three members of the international coalition, known as ISAF, that is seeking to build up the Afghan security forces.
The head of ISAF sought to ease pessimism about the ability of Afghan forces to take over from coalition troops as they prepare to withdraw by 2014, saying that while such attacks are upsetting, they are typical in a conflict like this and do not indicate failure.
There are also signs, however, that Afghan soldiers are not only a threat to coalition troops, but also to their own government. The New York Times reports that nearly a dozen suicide vests were found at the Afghan Ministry of Defense yesterday, in what Afghan and Western officials believe was a plot to bomb buses carrying employees home.
The ministry flatly denied the reports of a foiled suicide plot, describing it as a false leak.
"This is completely inaccurate and we deny all the information and details regarding this suicide plot. None of the suicide vests were found, no one was arrested, and the ministry did not shut down," Dawlat Waziri, deputy for the spokesman of the Ministry of Defense, told the Monitor.
The Times notes concerns that the alleged plot may have been intended as the opening volley in a new season of Taliban attacks.
The security breach took place in one of the most fortified parts of Kabul, less than a mile from the presidential palace and the headquarters of the American-led coalition. It raised the prospect that the Taliban, which launched a series of high-profile attacks inside Kabul last year, plans to pick up where it left off as winter snows give way to spring, clearing the high mountain passes and opening the annual fighting season.
---